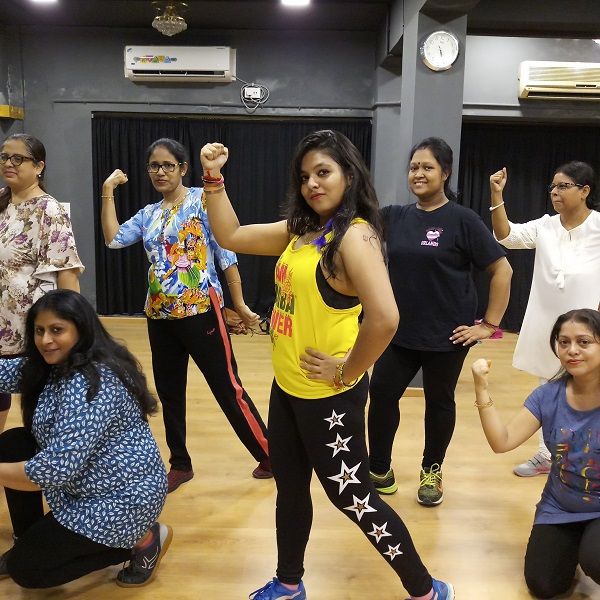 Zumba | The new way to fitness only at Twist N Turns
Yes!! We are the Largest team of Zumba Instructors in Kolkata. Why are we so good, find out yourself. Come and take a free trial class with our extraordinary talented,
fun-loving instructors.
You must be looking for our class time and schedule. Our team is eagerly waiting to talk to you
To get Free Demo Class, call us on 9831018015 or 9830028063 to take a trial class.
Schedule:
| | | |
| --- | --- | --- |
| Salt Lake | Weekdays: | Tues, Wed & Fri- 9-9.45 AM |
| | | Tues & Thurs- 10.45-11.30 AM |
| | | Tues, Wed & Fri- 7-8 PM |
| | Weekends: | Sat & Sun- 8-9 AM |
| | | |
| Dum Dum Park | Weekdays: | Tues, Wed & Fri- 7.15- 8 PM |
| | Weekends: | Sat & Sun- 9-10 AM |
| | | Sat- 4.15-5 PM & Sun- 11-11.45 PM |
| | | |
| New Town | Weekdays: | Tues, Wed & Fri- 7-7.45 PM |
| | | Tues, Thurs & Fri- 8 - 8.45 PM |
| | Weekends: | Sat & Sun- 9 - 9.45 PM |
| | | |
| Ballygunge | Weekdays: | Mon, Wed & Thurs- 6.15 -7 PM |
| | | Mon, Wed & Fri- 7.15 - 8 PM |
| | Weekends: | Sat & Sun- 9.15 - 10 AM |
| | | |
| Ruby | Weekdays: | Tues, Wed & Thurs- 7 - 8 PM |
| | | Tues, Wed & Fri- 8 - 9 PM |
| | | Tues & Thurs- 11 - 12 PM |
| | Weekends: | Sat & Sun- 9-10 AM |
| | | |
| New Alipore | Weekdays: | Tues, Thurs & Fri- 11.30 AM- 12.15 PM |
| | | Tues, Thurs & Fri- 7.30 - 8.15 PM |
| | | Tues & Fri- 5-6 PM |
| | Weekdays: | |