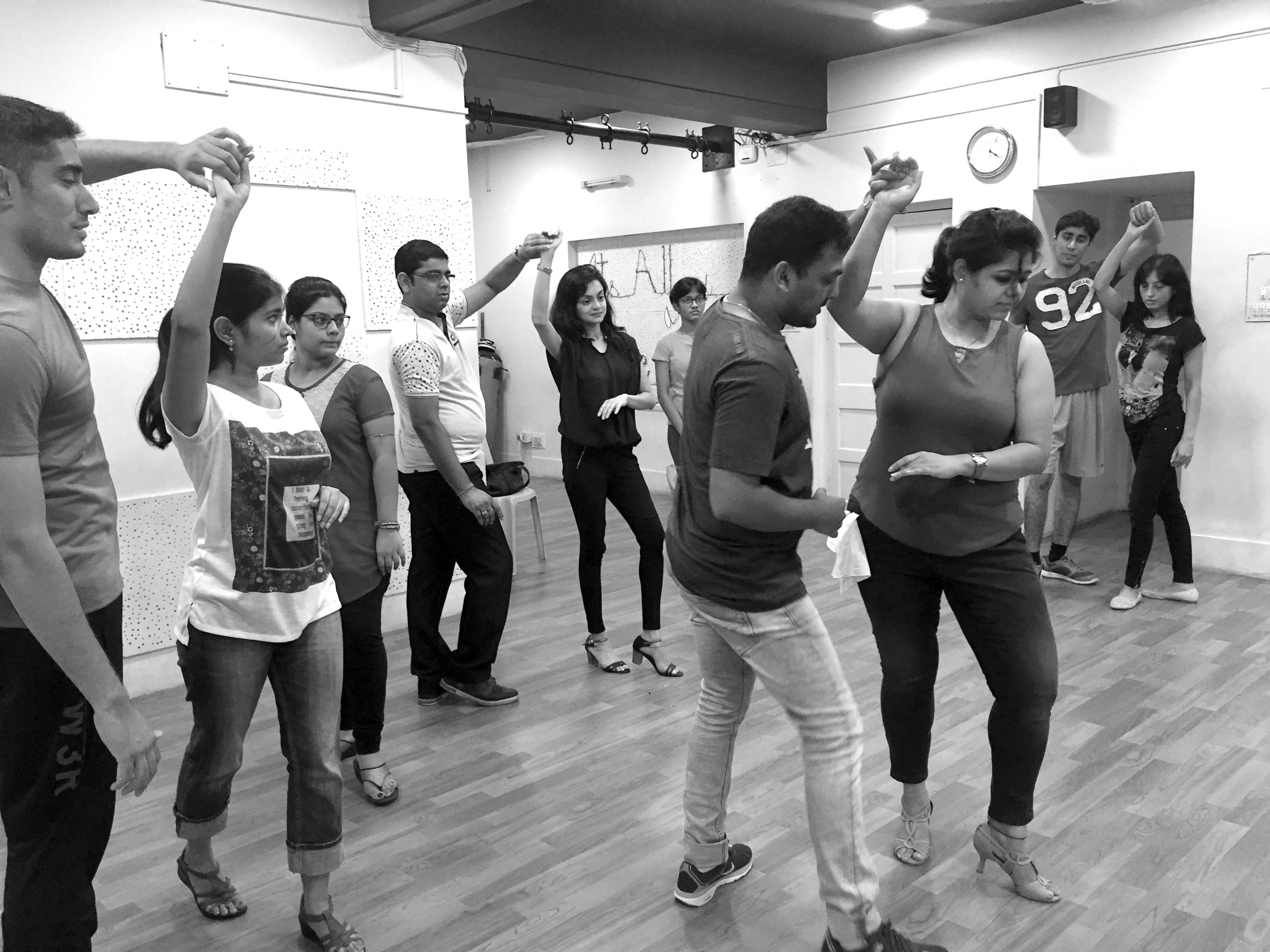 How to join Salsa classes?
TWIST N TURNS has been running Salsa dance classes in Kolkata since 2005 when only a few of the Salsa dance instructors had started their dance teacher's career in the city. The age criteria for this dance form is a minimum of 15 years and above.
Fees for Salsa:
The Basic course is for 12 sessions spread over 3 months.
Couple and students discounts available.
If the entire course fee is paid at the time of joining, then a 20% discount is applicable.
Introductory Fees for Bachata:
The Basic course is for 12 sessions spread over 3 months. The Membership fee is Rs 1500/- and Monthly Fee, Rs 2000/-
If the entire course fee is paid at the time of joining, then a 20% discount is applicable.
Growth:
After you have completed your Basic level you will be promoted to Improvers. This level is majorly focused on combinations and patterns. One takes around 30 hours of classes to complete the Improvers level.
Post the Improvers level, we have the Intermediate, which has advanced combinations and moves. Styling and advanced body movements are also part of this level. You are promoted to this level once you have completed your Improvers level. One takes at least 100 hours to complete this level. There is a different fee for Improvers and Intermediate level. Once you have completed a level, you will be informed of the fee for the next level.
---
Frequently asked questions. (FAQ)
What if I sign up for a session of classes and have to miss a class?
No problem! You can make up classes during the coming week. Once you sign up for a session and miss a class, you may attend a make-up class by informing the teacher. If you cannot make any other class in that week or coming week, then you would lose a class (although we do go out of our way to make sure people are well taken care of).
I'm bringing someone; do I have to rotate partners?
Rotating partners is not solely for social reasons. It helps the learning process. It's necessary to properly learn how to lead and follow. Everyone has a different style, and changing partners will greatly enhance the speed at which you learn. That being said, you can always remove yourself slightly from the circle and not change partners - no problem!
Do I need to get a Partner?
Absolutely not! We rotate partners in class, and everyone will have ample partners. If we have an imbalance, extra people just wait in between couples and will get a partner in a couple of minutes (we switch partners quite a bit during class). We also do our best to have even classes.
What shoes should I wear?
If you have dance shoes then bring them. The ideal shoes have suede soles and hold your foot firmly in position. If you do not have dance shoes, wear something that is comfortable and that can slide quite easily on the floor without gripping. Leather soles are good, rubber soles are not. We recommend you do not wear trainers, boots or mules. The right footwear is essential in order to be able to carry out movements correctly and without injury. We stock a wide range of leather dance shoes for both ladies and gentlemen.
---
History of Salsa
Salsa is not easily defined. Who invented salsa? The Cubans, Puerto Ricans? Salsa is a distillation of many Latin and Afro-Caribbean dances. Each played a large part in its evolution. Salsa is similar to Mambo in that both have a pattern of six steps danced over eight counts of music. The dances share many of the same moves. In Salsa, turns have become an important feature, so the overall look and feel are quite different from those of Mambo. Mambo moves are usually danced forward and backward, whereas, Salsa has more of a side to side feel.