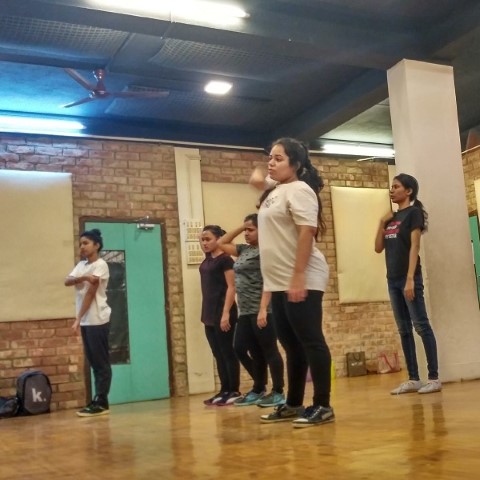 SUNDAY CHOREO SHOTS S2E3- ( Nashe se Chad Gayi - Arijit Singh by Kavya | Dum Dum park )     
The 3rd Sunday Choreo Shot was taken by Kavya who taught a choreography on the recent Bollywood song "Nashe se chad Gayi" by Arijit Singh. It was a jazz-funk
and waacking choreo shot and every participant was very eager to learn this new amalgamation of two different styles as it was the very first time that we had introduced waacking. The Participants gave all their effort to learn the fast and swift and sharp waacking steps as well as the smooth and crisp jazz steps.
Upon asking about their experience we got some interesting answers such as:

"It was an amazing class, had lots of fun and learned new techniques. Looking forward to learn more." said Sonam Choudhury.

"It was my 1st workshop and i enjoyed it a lot,i was new to this dance form so i was able to learn quite a lot of new dance moves. I am looking forward to more of these workshops." said Neeru Maheshwari.

"We enjoyed the class veyr much, a good 1.5hr session that makes you learn new techniques. Fun fun and fun." said Neeti Nevatia.

"One of a kind experience, i had an awesome time,Will do more of these.Cheers! said Sunita Kapoor.