Introducing Kids Ballet Dance Classes at Twist N Turns (New Alipore).
In today's time, to make your child understand the basics of western dance, one must learn the techniques of Ballet.
Ballet is the most poised dance form and it helps in increasing the capabilities to adapt all other dance forms. Also, it helps to understand the body anatomy and discover the understanding of body injuries and prevention. Hence, we are now introducing with regular Ballet dance classes at our New Alipore Studio.
Commencing from March 27th. You can take a FREE trial class on the very day.
For more details, call on 9831018015
New Alipore
Kids Ballet
Tue & Fri (5 - 6 PM)
---

Time Table according to all centres.


4-5 YEARS
SALT LAKE
SAT (6 - 7 PM) & SUN (11 - 12 PM)
DUMDUM PARK
TUE & FRI (4 – 5 PM)
RUBY
TUE & FRI (4 - 5 PM)

NEW ALIPORE
SAT (4.30 PM - 5.30 PM) & SUN (11 AM - 12PM)
NEWTOWN (ACTION AREA 1)
SAT & SUN (11 AM - 12 PM)
---
5-7 YEARS
SALT LAKE
TUE & FRI (5 – 6 PM)
BALLYGUNGE
SAT (3 - 4 PM)
DUMDUM PARK
TUE & FRI (5 - 6 PM)
OR
SAT (3 - 4 PM) & SUN (9 - 10 AM)
RUBY
TUE & FRI (5 - 6 PM)
OR
SAT (5 - 6 PM) & SUN (10 - 11 AM)
NEWTOWN (Action Area 1)
SAT & SUN (11 AM - 12 PM)


---
8-12 YEARS
SALT LAKE
WED & THU (5 - 6 PM)
OR
SAT (5 – 6 PM) & SUN (11 – 12 PM)
BALLYGUNGE
FRI (6 – 7 PM)
DUMDUM PARK
SAT (5 - 6 PM) & SUN (10 - 11 AM)
RUBY
SAT (6 – 7 PM) & SUN (11 – 12 PM)
OR
FRI & SAT (7 -8 PM)
NEW ALIPORE
SAT (5 PM - 6 PM) & SUN (10 AM - 11AM)
NEWTOWN (Action Area 1)
SAT & SUN ( 10 - 11 AM)
---

Application process and procedure. Applicable only below 12 years candidates.
Applications are taken throughout the year. The course will commence only in four terms. To apply one must visit our centre and fill up the application form with one passport size photo, birth certificate along with Rs. 500/- as application fee. This fee will be adjusted during the time of admission. On allotment, if one disagrees to take the admission then the application fee will be forfeited.


Course Structure:
FOR BELOW 5 YRS, we teach creative movement, which is basically the pre-dance class, a way for children to explore movement through music, develop physical skills, and stimulate the imagination. Call us for a free trial.
The dance course for kids is for 5 to 12 years, divided into two groups: Kids(5-8yrs) and Tweens(8 -12yrs).
There are two basic courses of 6 months each
A: Beginners Course on Jazz Dance
B: Beginners Course on Street Dance

The course content also includes:
Body awareness, Strength, Conditioning, Space awareness, Expressions, and Musicality.
At the end of the course, all students have to appear for a performance test in the studio, where they have to demonstrate moves.
After the completion of both courses, the kids are selected and promoted to improvers or advanced batch, depending on their skill and level of performance and enthusiasm.
Not all kids make to the next level as it takes time to absorb the technique and mould oneself. Kids are retained in the same class until they excel because we believe only strong base make a strong dancer!


Class Structure:
Each class is 1 hour, which will include:
20 minutes of body conditioning (stretching, cardio, toning, strength)
20 minutes of technique and dance routine
20 minutes of choreography.


Admissions/Terms:
Four terms in a year to enroll:
Winter - January
Summer-April
Rainy - July
Autumn- October


Rules:
80% attendance is mandatory.
Students have to come in uniform.
Also, refer to Dance Etiquettes.

Certification:
The certificate is awarded to students on an internal examination basis conducted after the completion of course.
---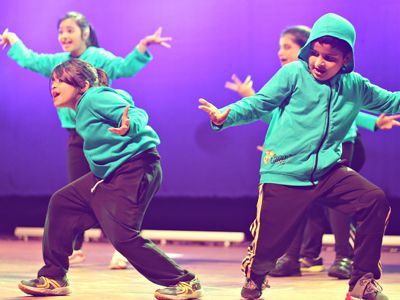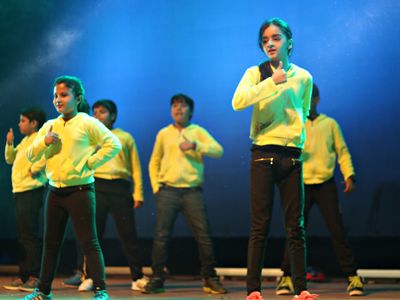 About the dance:
Jazz dance, a western semi-classical dance form, emphasizes a strong technical foundation that enables a dancer to focus on the stylistic and performance aspects of dance. The technique is essential for leaps and turns, and correct posture is essential to properly execute such moves. Jazz class focuses on lining and postures to build the base of a dancer. Hence, it requires some form of moderate intensity stretching in order to warm up the muscles and help prevent injuries. Some techniques used in the warm-up consist of elongating leg muscles and strengthening the core, to improve dance skills.
Street dance emphasizes on the styles and improvisational quality. It includes dance like Old School HipHop, Locking, Popping, House, Breaking and more. These dances focus a lot on styling, strength, cardio, and power. Being one of the most liked dance forms in recent years, it really brings out style and attitude!

To know more, please feel free to get in touch with us.